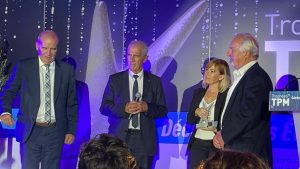 On Wednesday, October 19 at the House of Creativity Chalucet in Toulon, was held the 1st ceremony of trophies TPM organized by Toulon Provence Mediterranean.
This ceremony rewards local companies and actors for their involvement in the territory and their contribution to the influence of the metropolis.
On this occasion, Marine Tech received the "Economy of the Sea" award for its innovations around two themes: access to drinking water with HELIO and ocean exploration projects in partnership with the Navy and the University of Toulon.
Marine Tech would like to thank the Toulon Provence Méditerranée Metropolis, TVT Innovation and the South Provence-Alpes-Côte d'Azur Region for their unfailing support and trust.